Smart storage - Get organised
It should be quick and easy to find things in the bathroom. Invest in good storage – you won't regret it. Tidy up your surroundings. Start with the right furniture. Then add drawers, compartments, baskets and bowls. Organise and structure your living space from top to bottom. Nobody enjoys being surrounded by mess. Clear out, pare things back and limit clutter.
The best drawers we've ever made
Sturdy construction, high function and gorgeous design. This sums up our drawers. They've got space for everything you need when preparing for a busy day or a good night's rest. You can enhance them even further by adding accessories. Our drawer concept is specially designed for the furniture collections Forma, Stil and DK.
Forma, Stil and DK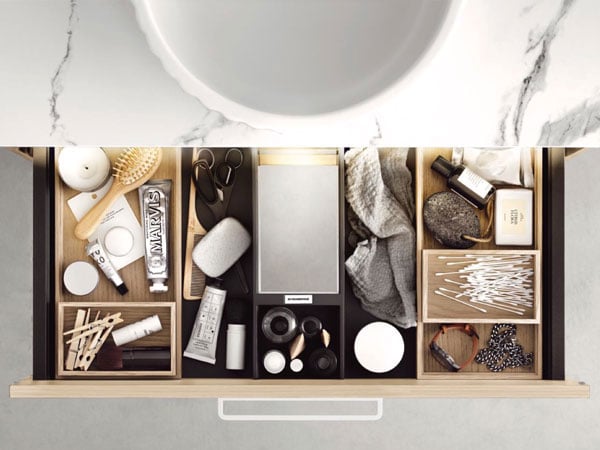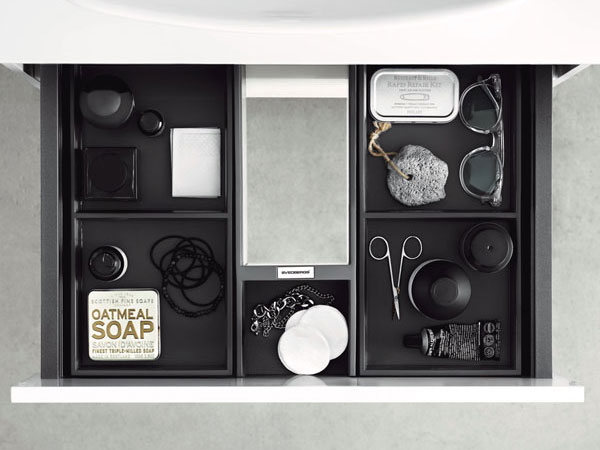 BOX ONE & BOX ONE+
Box One is included in Forma and Stil at no extra charge. These drawer systems have a moulded plastic insert that is extremely durable and easy to maintain. A special anti-slip material in the bottom of the drawers keeps the contents from sliding around. No rattling. No fuss. If you love design and order, Box One+ is for you. For an extra charge you get black wooden inserts and two smaller wooden boxes for putting anywhere you want inside the drawers. An attractive and practical solution.
Forma & Stil
BOX TWO & BOX TWO+
If you choose our DK collection, Box Two is included at no extra charge. You get stylish wooden inserts and two smaller wooden boxes that you can put wherever you want inside the drawers. Box Two breathes style and function. To enhance the look still further, you can upgrade to Box Two+ for a small extra charge. Then you'll get two wooden lids for the small removable boxes and wooden side panels for the drawers. The wooden side panels create the impression that the whole drawer is made of wood. The drawer inserts are otherwise the same as for Box Two.
DK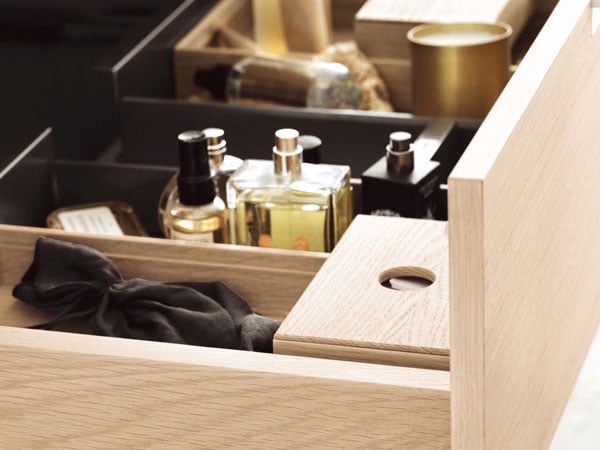 Vanity units for your bathroom
Choose between vanity units with different widths, heights, and depths, with drawers that are fully extendable, soft-closing and easily adjustable. The drawers have practical dividers inside to keep bottles upright, and a non-slip mat. You can add double sockets inside the drawers as an optional extra.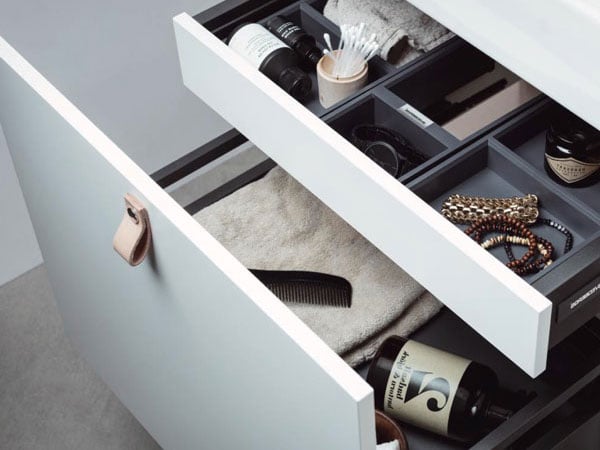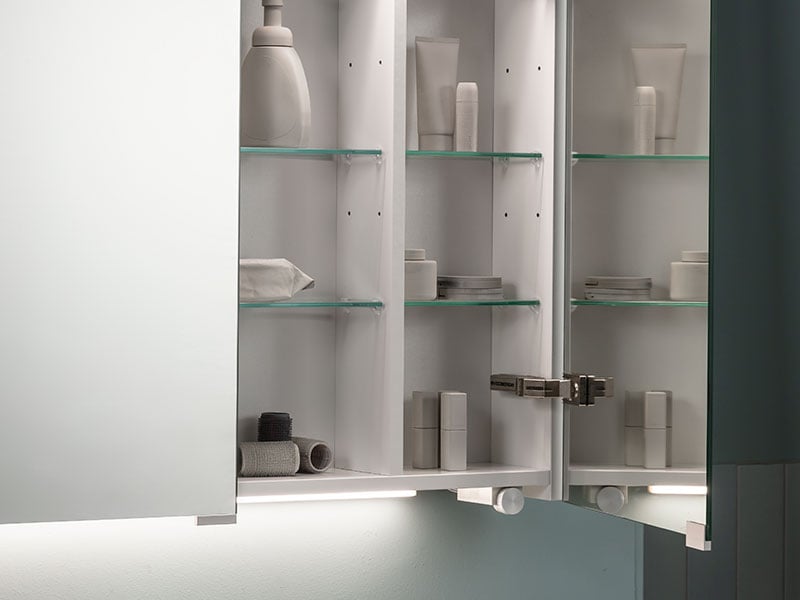 Upper units and mirrors
What are the best solutions to your storage needs? Practical furniture makes life easier. Choose between vanity units and mirrors with different widths, heights, and depths. All our products that include lighting are fitted with high-quality, energy-saving and safe solutions. All the electrics in our products are CE and S marked. Height-adjustable shelves make for easy storage. After all, not all bottles, tins and toothbrushes are the same height ...
Smart side cabinets for your bathroom
Have you got room for extra storage? Add tall cabinets, side cabinets, laundry cabinets or wall cabinets. Choose between different widths, heights, and depths. Good storage is functional by definition. Our cabinets have plenty of space inside and every detail is carefully designed. Soft-closing doors and drawers, moveable shelves and magnetic closures that keep doors and drawers shut are just a few examples. Choose between handles or a push open system that opens the door or drawer when you lightly press the front.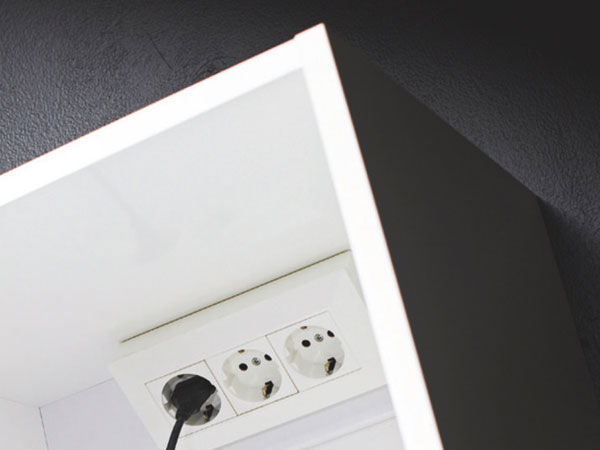 A good bathroom can always be better
Our bathroom furniture is full of smart functions as standard. But you can choose to add extras such as power sockets, a magnifying mirror or a laundry basket.
Choose a storage that suits you!
Visit the nearest retailer and look at our smart storage in real life.