We make your bathroom life easier
Storage is trending, and everyone's talking about the importance of keeping things organised. It sounds easy but it's more tricky in practice. A good starting point is having the right storage solutions. And now they're available. More than ever before. In addition being useful , they look fantastic anywhere. Not just in bathrooms.
Förvaring
You might deliberately decide to create a disorderly look, but this should always be a conscious style choice, never an accident. So the question remains; where should you put all your things? The key is a combination of smart storage and a classic methodical approach. Let's start with the method. Take everything out of your bathroom cabinets and drawers. Get rid of everything you didn't even know you had or don't need anymore. Then divide everything that's left into categories, such as towels, makeup, electric toothbrushes and nose hair trimmers, bath toys, skin creams, toilet roll, champagne coolers, etc. Now take each group of items one at a time and rearrange them in your cabinets and drawers in a neat, tidy and orderly way.
After this, you might find that some items still don't fit into your cabinets and drawers. In that case you have two options. One is to buy more storage. If you haven't got room for more storage units, you'll need to go through it all again and get rid of more things. If there still isn't enough room for everything after this, you might seriously consider getting a new home with a bigger bathroom. Or multiple bathrooms. The other option is to accept the bathroom you've got and embrace a degree of charming disorder. Light a scented candle and relax. Whatever you choose, good luck with your storage!
Create your perfect bathroom
Modules and combinations of the storage solutions we offer.
Optional extras that make life easier
Details that make life a bit easier, a bit more convenient and sometimes a bit more stylish. Options that make a difference every day. Once you've tried them you won't look back.
Charging station
Once you've had a charging station in your bathroom unit, you'll never look back. For your mobile phone, shaver or hair curler.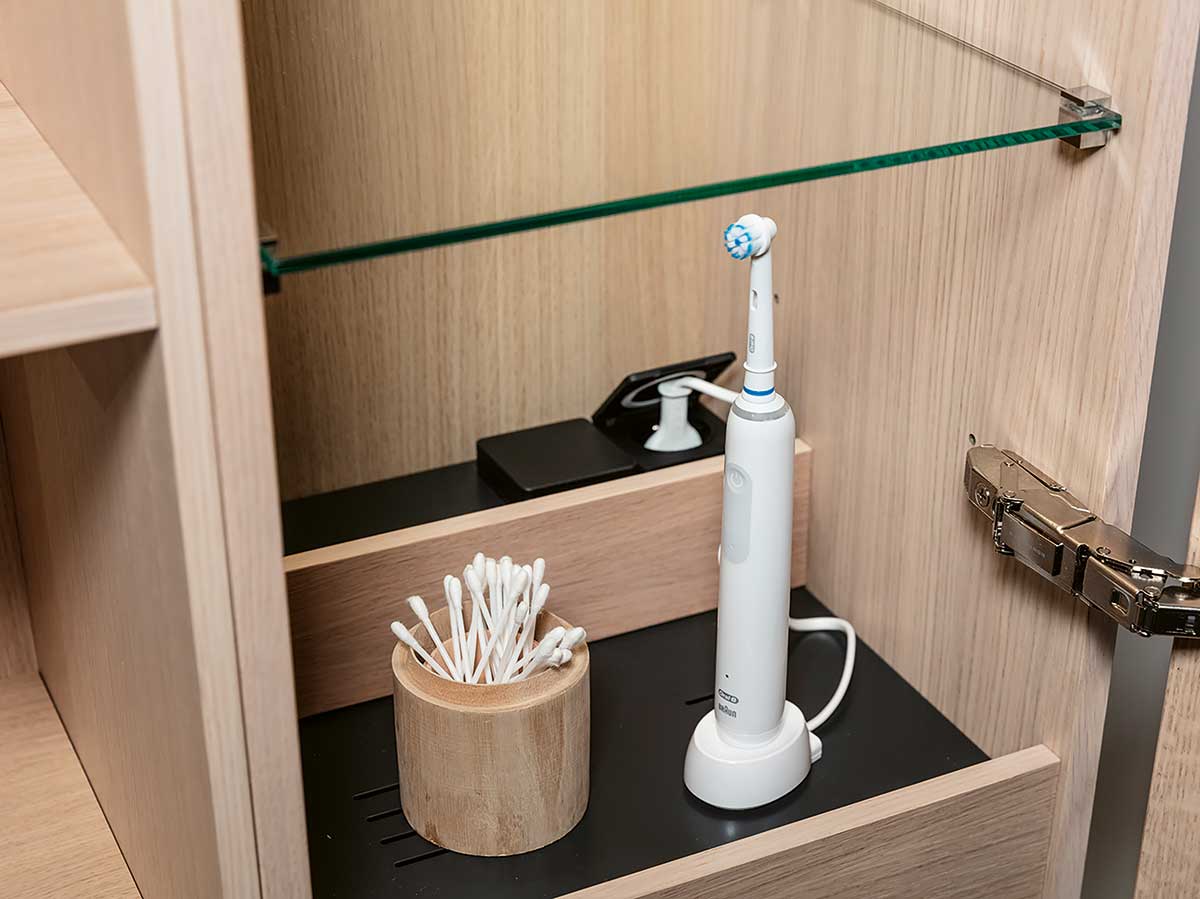 Lighting in cabinet
Having lighting in your cabinet is both welcoming and practical. Practical because it makes your things easier to find.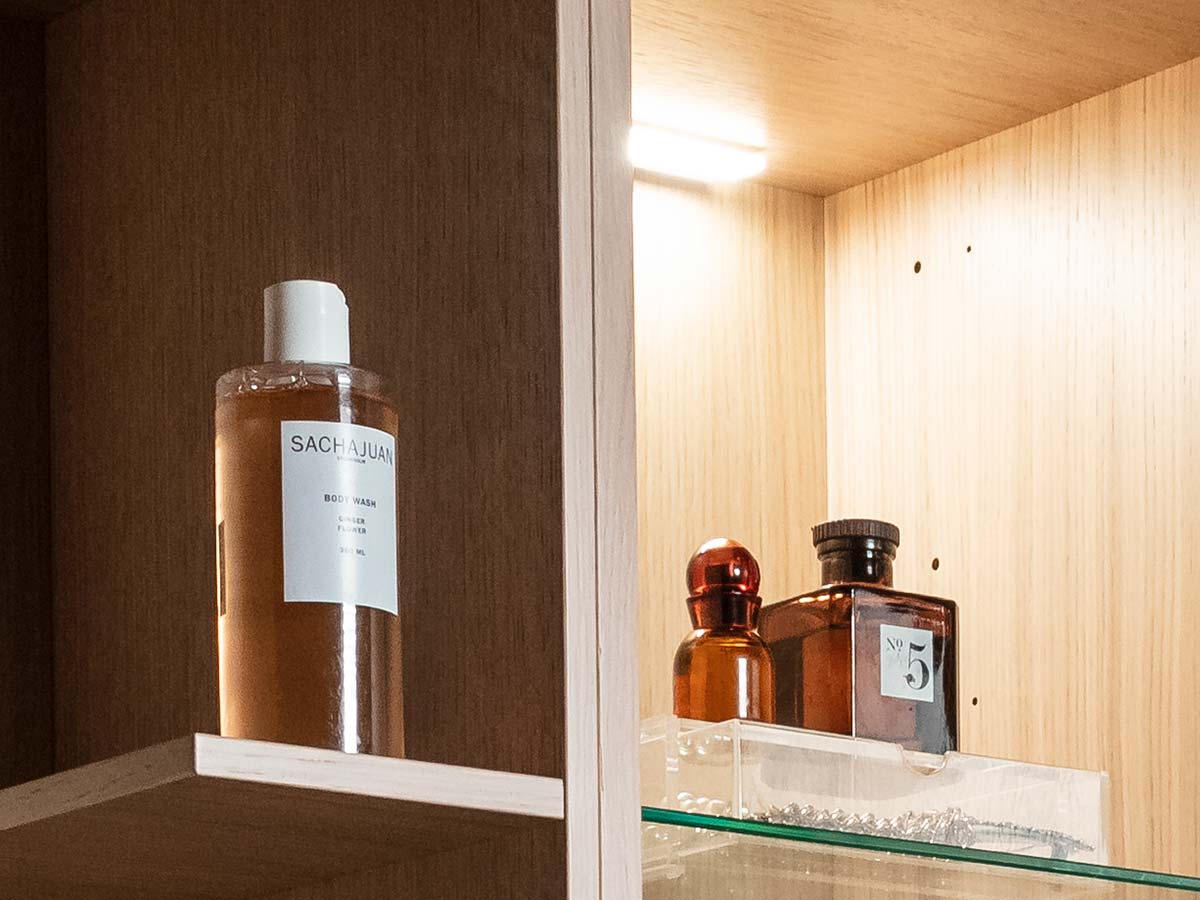 Floor light
Lighting both inside and under the cabinets is practical and looks attractive and cosy.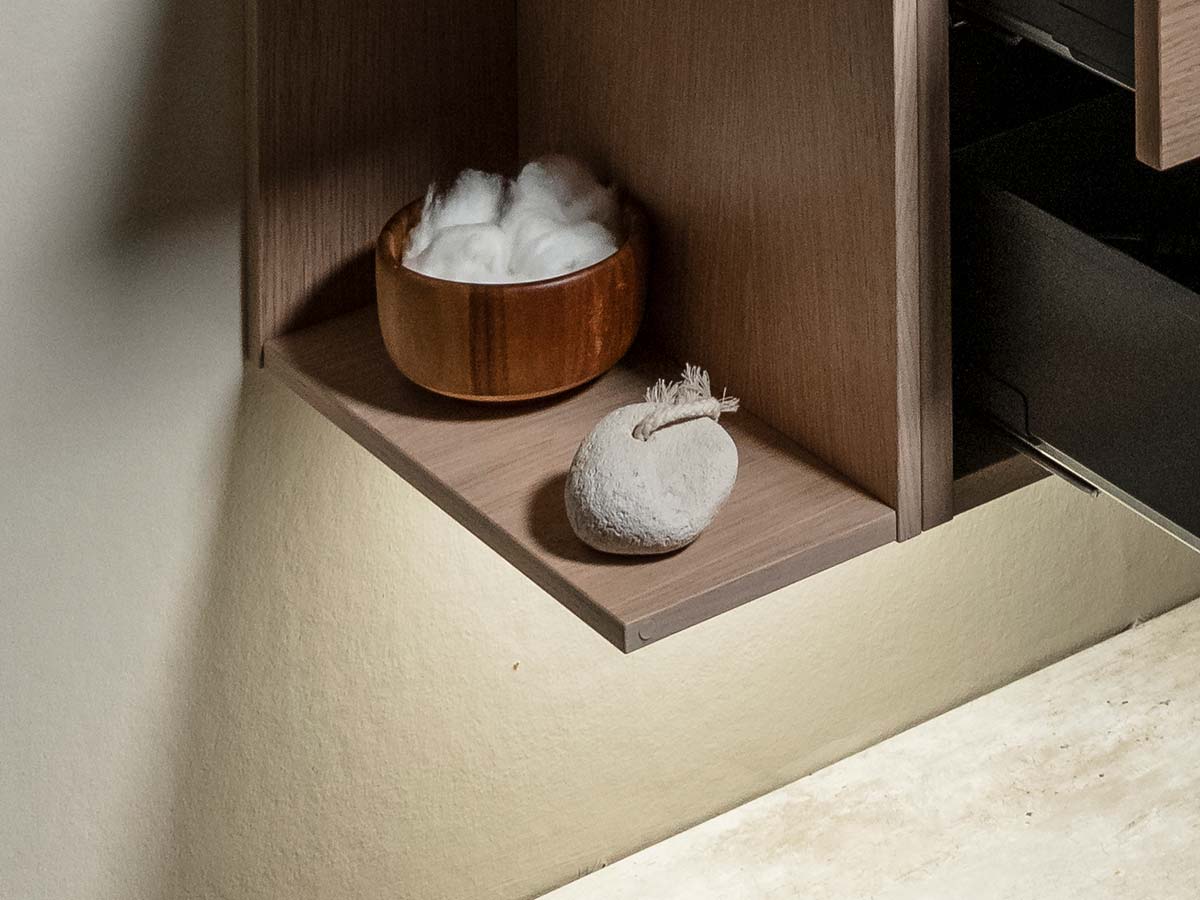 Glass shelves
Glass shelves in your cabinet add a luxurious touch. They're also practical, giving you a better view of the contents.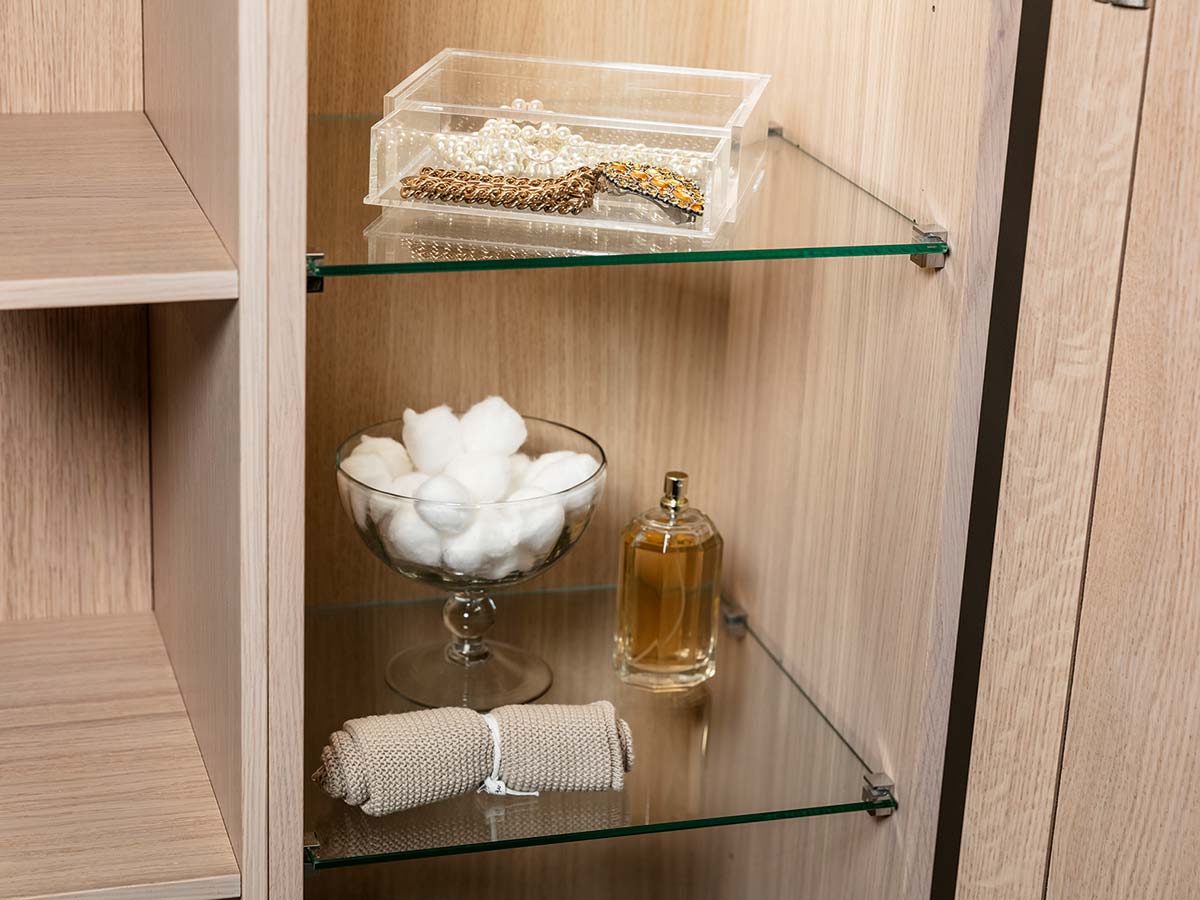 Open storage
Our tall storage units can easily be supplemented with open side storage to increase their total width.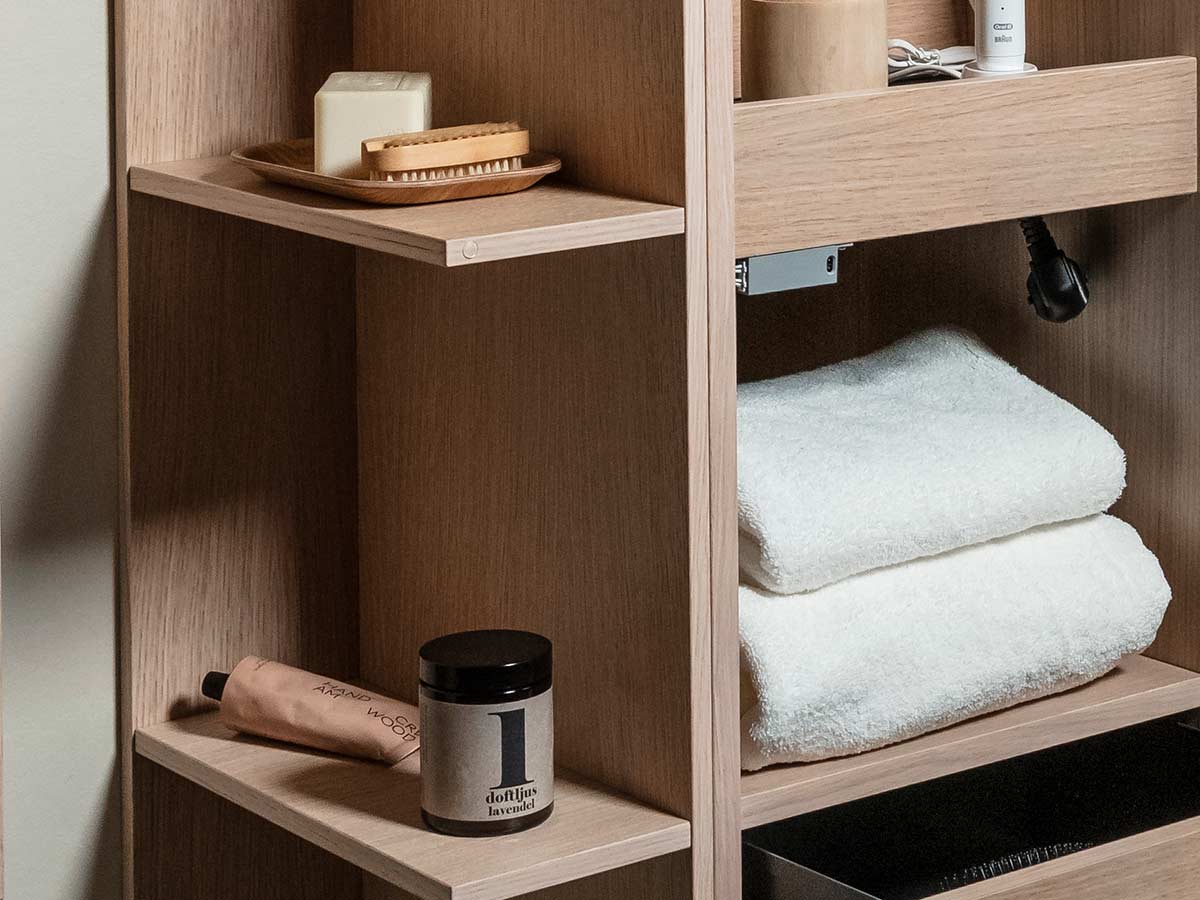 Laundry basket
Our practical laundry basket is easy to lift out and carry to the washing machine.
Handle
The right handles can enhance the character and style of your bathroom.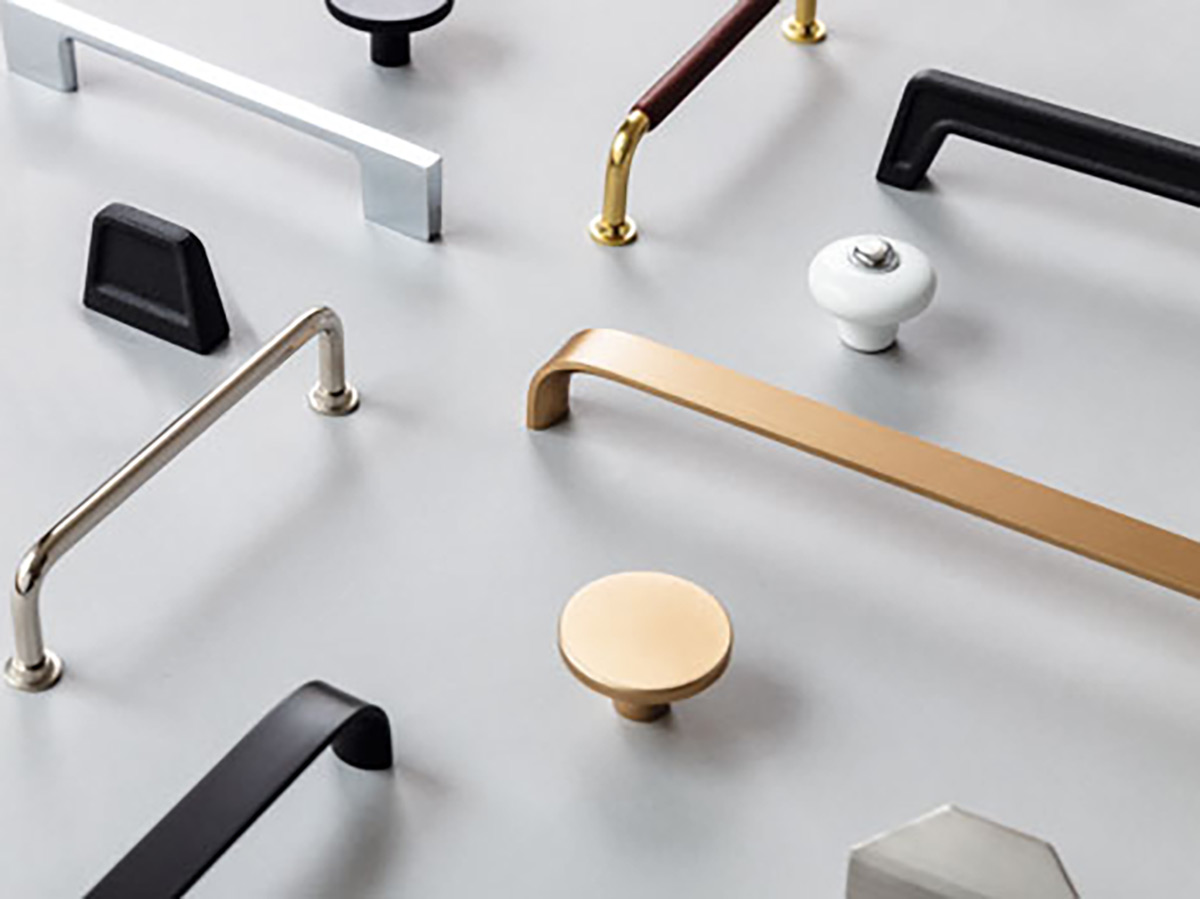 A laundry room in your bathroom
When planning a laundry room, it's natural to focus on the white goods. Of course you'll need to consider which washing machine and dryer get your clothes the cleanest and driest. But what about all the other aspects? Other things that make a laundry room practical and easy to work in. Smart solutions that don't cost much. Even if you haven't got a laundry room, you might want to integrate one into your bathroom. Whatever your situation and needs, it makes sense to make optimal use of your space.
Washers & Dryers