Mirror Tived LED
Our Tived mirror has a traditional design and can be supplemented with a light strip and basin lighting. The mirror is available in several widths and is suitable for small and large bathrooms. The mirror can be easily and securely attached to the bathroom wall using the mounting bar. Add the Tived shelf to create attractive bathroom storage. Read more about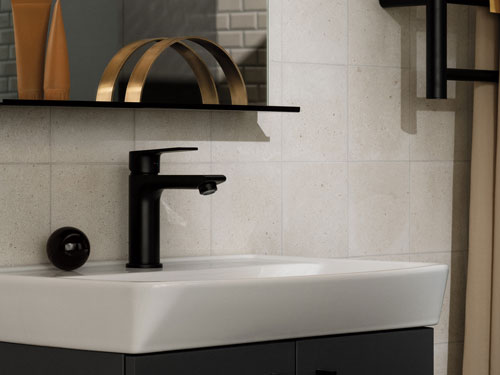 Add a black or white metal shelf
The optional Tived shelf is perfect for displaying your favourite accessories.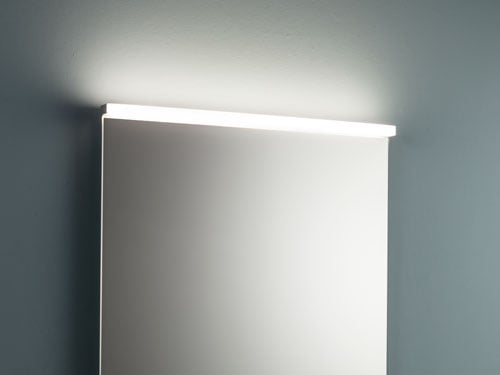 Add optional lighting
The Tived mirror can be supplemented with a light strip either with or without basin lighting.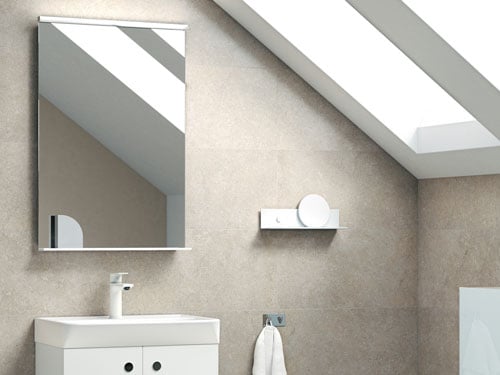 Safe and simple mounting
The Tived easily fits to the wall with a mounting bar system. The bars behind the mirror help you conceal any cables.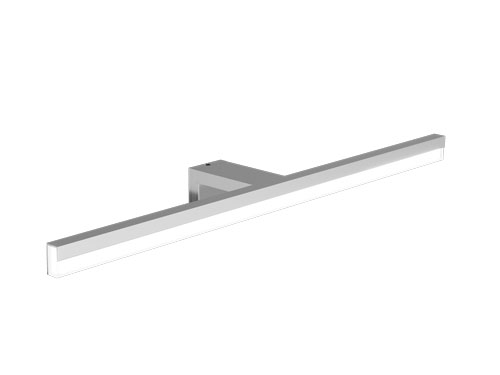 Add overhead lighting
Adding optional lighting above your mirror further increases the light in your bathroom.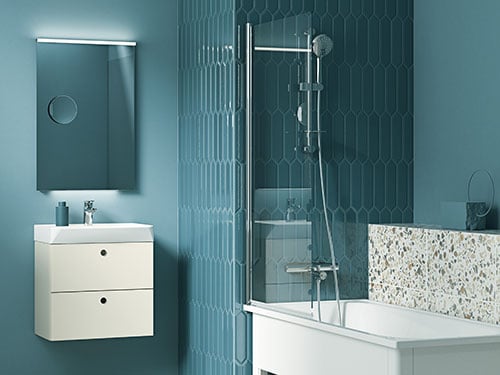 Factory-installed electrics and IP rated
You can always rest assured with our safe electrical installations. Our products have factory-installed electrical components that are N marked, CE marked and IP rated
Product information
Mirror Tived LED

• Energy-effective, soft lighting

• Buy optional shelf for extra storage

• Simple mounting system. The mirror is fitted to the wall quickly, easily and securely with a mounting bar

• Safety sheet on back of mirror with information in the event of an accident

• Made in Sweden

• 5 years guarantee

• IP 44 - certified

• Supplied ready-assembled with third party certified electronic components

• A tall mirror that makes a small bathroom look bigger

Item No.
Description
RSK
EAN

Item No.:

226040

Description:

Mirror Tived 40 LED

RSK:

8879737

EAN:

7323100288332

Item No.:

226045

Description:

Mirror Tived 45 LED

RSK:

8879739

EAN:

7323100288356

Item No.:

226050

Description:

Mirror Tived 50 LED

RSK:

8879741

EAN:

7323100288370

Item No.:

226055

Description:

Mirror Tived 55 LED

RSK:

8879743

EAN:

7323100288394

Item No.:

226060

Description:

Mirror Tived 60 LED

RSK:

8879745

EAN:

7323100288417

Item No.:

226080

Description:

Mirror Tived 80 LED

RSK:

8879747

EAN:

7323100288431

Item No.:

226100

Description:

Mirror Tived 100 LED

RSK:

8879749

EAN:

7323100288455

Item No.:

226045-TL

Description:

Mirror Tived 45 LED Walight

RSK:

8879740

EAN:

7323100288363

Item No.:

226050-TL

Description:

Mirror Tived 50 LED Walight

RSK:

8879742

EAN:

7323100288387

Item No.:

226055-TL

Description:

Mirror Tived 55 LED Walight

RSK:

8879744

EAN:

7323100288400

Item No.:

226060-TL

Description:

Mirror Tived 60 LED Walight

RSK:

8879746

EAN:

7323100288424

Item No.:

226080-TL

Description:

Mirror Tived 80 LED Walight

RSK:

8879748

EAN:

7323100288448

Item No.:

226100-TL

Description:

Mirror Tived 100 LED Walight

RSK:

8879750

EAN:

7323100288462

| Key | Value |
| --- | --- |
| S-Märkt | Yes Nemko |
| Lighting | LED |
| Energy efficiency | A++ till A |
| IP | IP44 |
| System Effect | 6,7 W / 7,84 W / 8,96 W / 10 W / 12,3 W / 14,7 W / 18 W / 11,14 W / 12,26 W / 13,1 W / 15,6 W / 16,8 W / 21,3 W |
| Light temperature | 3400 K |
| Lumen | 470 lm / 570 lm / 670 lm / 720 lm / 800 lm / 1080 lm / 1360 lm / 770 lm / 870 lm / 920 lm / 1000 lm / 1280 lm / 1560 lm |
| CRI/RA | >90 |
| MacAdam | 3 SDCM |
| Width | 40 cm / 45 cm / 50 cm / 55 cm / 60 cm / 80 cm / 100 cm |
| Height | 82 cm |
| Depth | 6 cm |
| Material | Glass |
| Washbasin lighting | Yes |